poested on Dec 7, 2017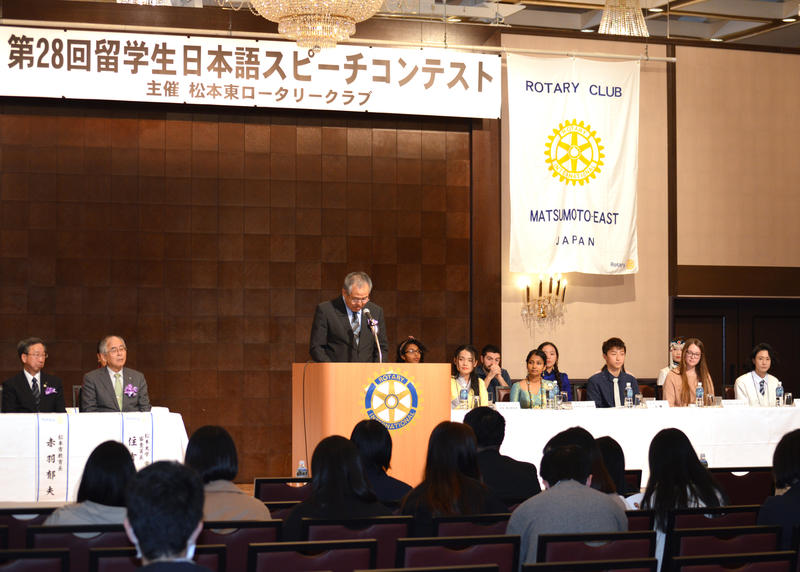 Feng Jiahao , Huang Haiyi and Zheng Yuting, all foreign exchange students from Ling Nan Shi Fan University in China participated in International Student Speech Contest sponsored by the Matsumoto Higashi Rotary Club. This contest has given chances to foreign students to talk about their lives, values, and cultures for 28 years. Ten foreign students from universities and business schools across the prefecture presented their speeches on November 17th. Feng Jiahao who won the second place, talked about his parents. He had been ashamed of his parents' job. His parents own a flute shop, which is not considered a good job in China. But after living in Japan, he realized the importance of how one works, not what he/ she does. This is because in Japan people are highly evaluated by their performance no matter what they do for a living.

Huang Haiyi won the Judge Special Prize, which was given for the most impressive speech. She talked about how stress free life is in Japan because people trust each other. Zheng Yuting 's speech was also very moving. She talked about the warmth of words: After coming to Matsumoto University, she was regularly given warm words of encouragement to keep her motivated. The other seven speakers' speeches were also superb, and made the audience think about their themes.